The SRT (Secure Reliable Transport) protocol enables secure, reliable, and low-latency delivery of high-quality video between multiple locations even over unpredictable networks like the public internet. Magewell Cloud simplifies one-to-many or many-to-many streaming with the Secure Reliable Transport (SRT) protocol by serving as an SRT gateway with SRT relay functionality.
SRT-capable Magewell devices – including Ultra Encode live media encoders and Pro Convert IP decoders – and third-party SRT products can connect via Magewell Cloud rather than directly to each other. This eliminates the need to allocate public, static IP addresses for each SRT device, as only the Magewell Cloud software installation needs to be accessible over the internet to enable SRT streaming between multiple endpoints.
1. Simplifying multi-point SRT streaming
Magewell Cloud's SRT relay feature simplifies one-to-many or many-to-many SRT streaming. Each SRT device acts as an SRT Caller, and Magewell Cloud acts as the corresponding SRT Listener. Users only need to fill in the fixed, public IP address of the Magewell Cloud deployment and specify a port number (8000 in our example) to enable many-to-many SRT streaming.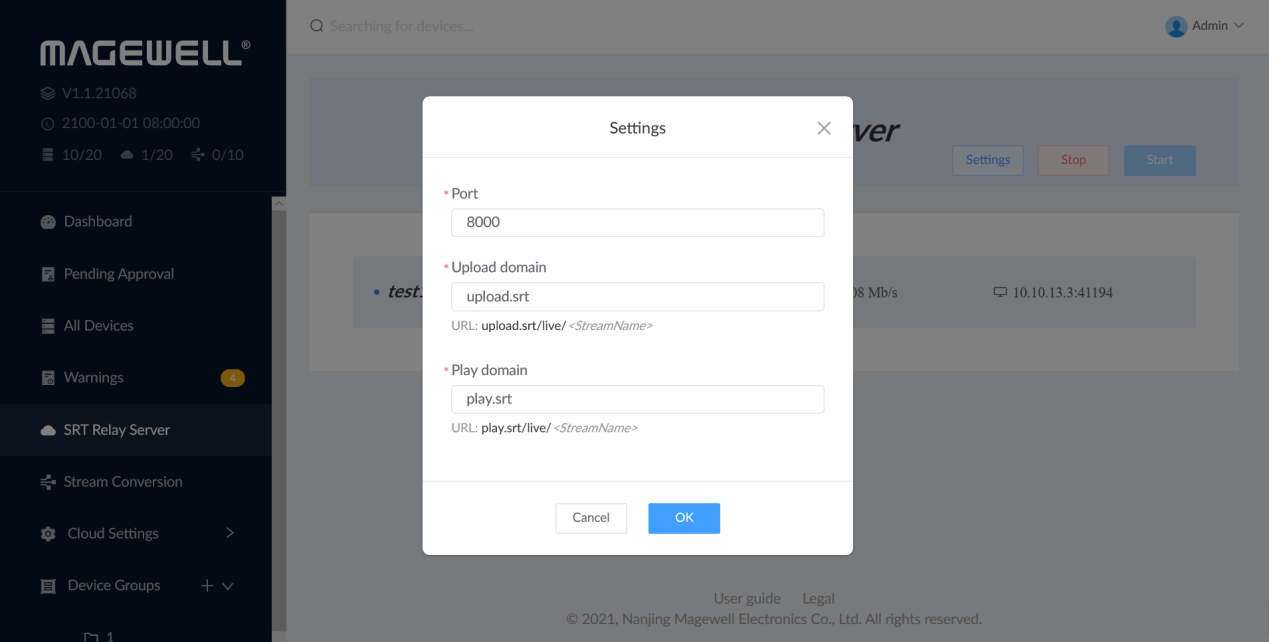 2. Saving IP resources and costs
Without an SRT gateway or relay, many-to-many SRT streaming generally requires multiple fixed, public IP addresses – which can be costly to obtain from internet service providers – and multiple port numbers. By using Magewell Cloud and making it accessible over the internet, users can save money by eliminating the need for fixed, public IP resources for the other devices in the workflow. In addition, the SRT Stream ID function can help distinguish different SRT streams to allow the use of a single port number, which improves network security and simplifies network management.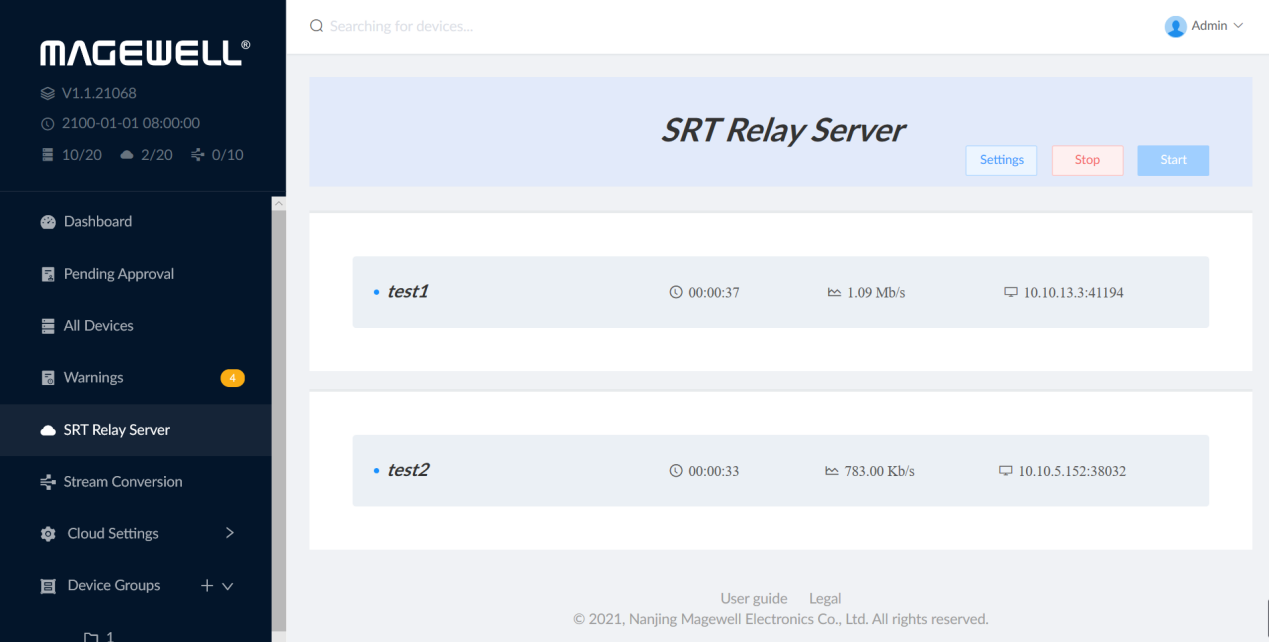 3. Compatible with a wide range of SRT-capable devices
Magewell Cloud's SRT stream management features are not limited to working only with Magewell devices. In addition to Magewell SRT solutions, third-party SRT products can also connect to Magewell cloud. Users of SRT-compliant third-party devices can use them without worrying about compatibility issues between products and brands, which improves the scalability and flexibility of SRT workflows.