While Magewell streaming and IP conversion solutions all have their own intuitive user interfaces, customers with multiple Magewell products – or integrators supporting many Magewell customers – may wish to manage them all remotely from a single dashboard. With this in mind, we introduced Magewell Cloud: intelligent, centralized management software that makes it easy for systems integrators, administrators, and IT staff to manage multiple Magewell IP devices such as encoders and decoders. This article will explain how to add Magewell hardware devices to the Magewell Cloud platform.
---
Devices Used:
The Magewell Cloud software, already installed on your own server or cloud hosting platform
One Magewell streaming or IP conversion device (Ultra Encode HDMI is used in this example, running firmware version V1.3.452 or higher)
One laptop (for accessing the Magewell Cloud software).
---
Steps:
Our communication flow is outlined in the diagram below.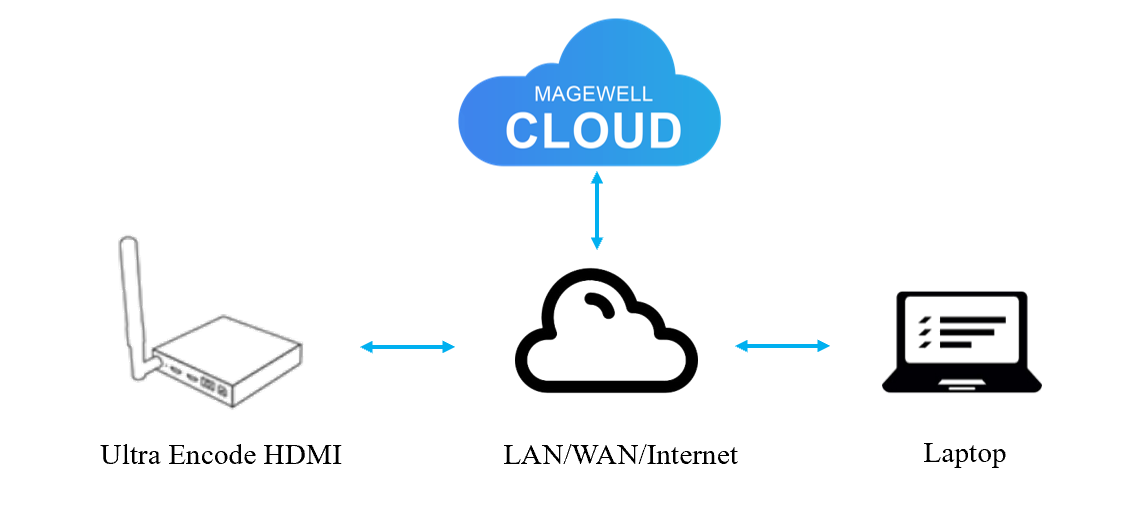 1. Log into the Magewell Cloud. Click "Cloud Settings" in the left-side menu, then click "Security" in the expanded sub-menu. Turn on the "Invitation Code" switch in the configuration panel, and copy the four-digit invitation code (8205 in this example; you can also click the refresh button on the right of the Code field to generate a new invitation code if you wish). Then click "Apply".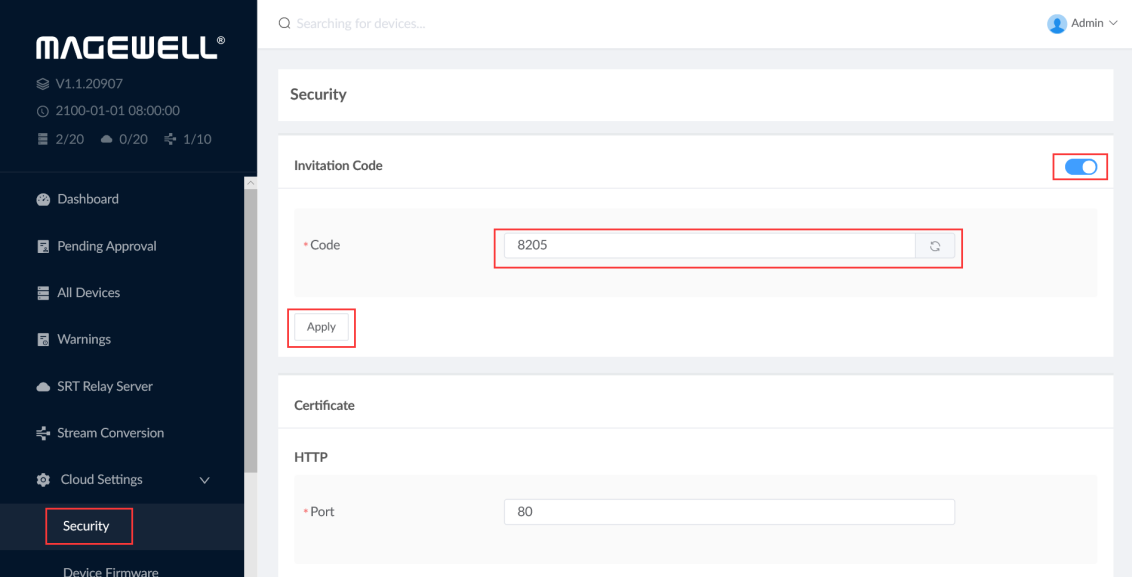 2. Log into the web GUI of the encoder, and choose "General > Cloud" from the left navigation menu. Click "Register". Fill in the invitation code (8205 in this example) and the IP address of the Magewell Cloud installation (47.104.XXX.XX in this example) on the pop-up panel. Click "Save".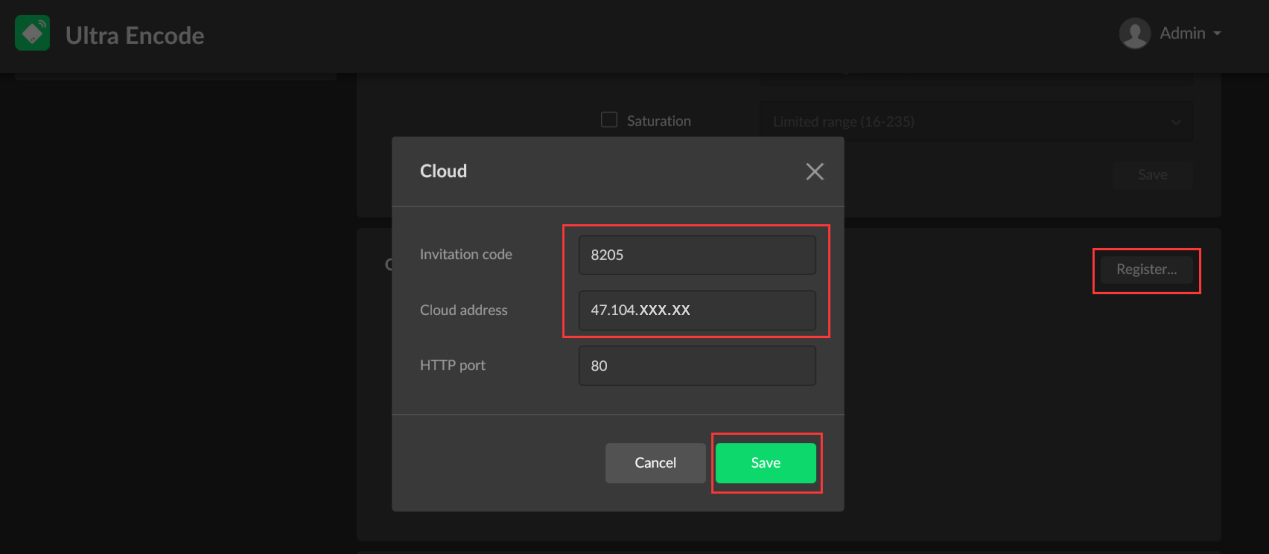 3. Return to the Magewell Cloud interface. Click "Pending Approval" in the left navigation. In the Waiting List, you should now see the Ultra Encode device you just attempted to register to Magewell Cloud. Turn on the checkbox to the left of that device, and click "Accept" to grant the required permissions.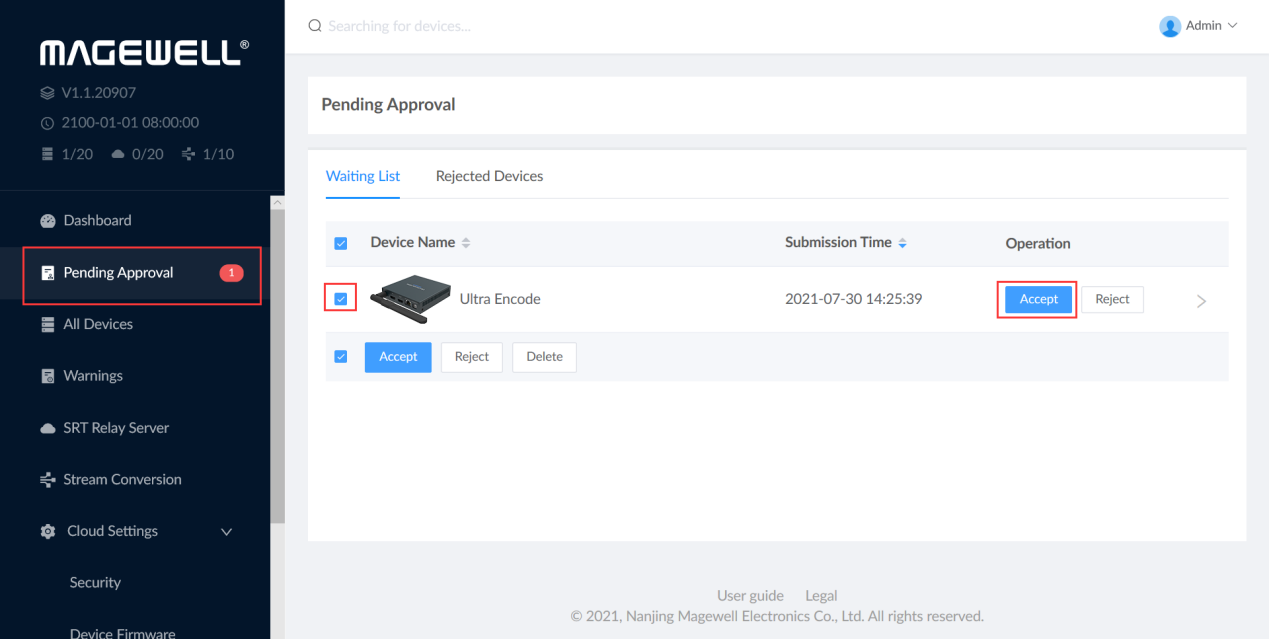 4. Approved products can now be accessed in Magewell Cloud on the "All Devices" page, where you can assign tasks to devices or group the units.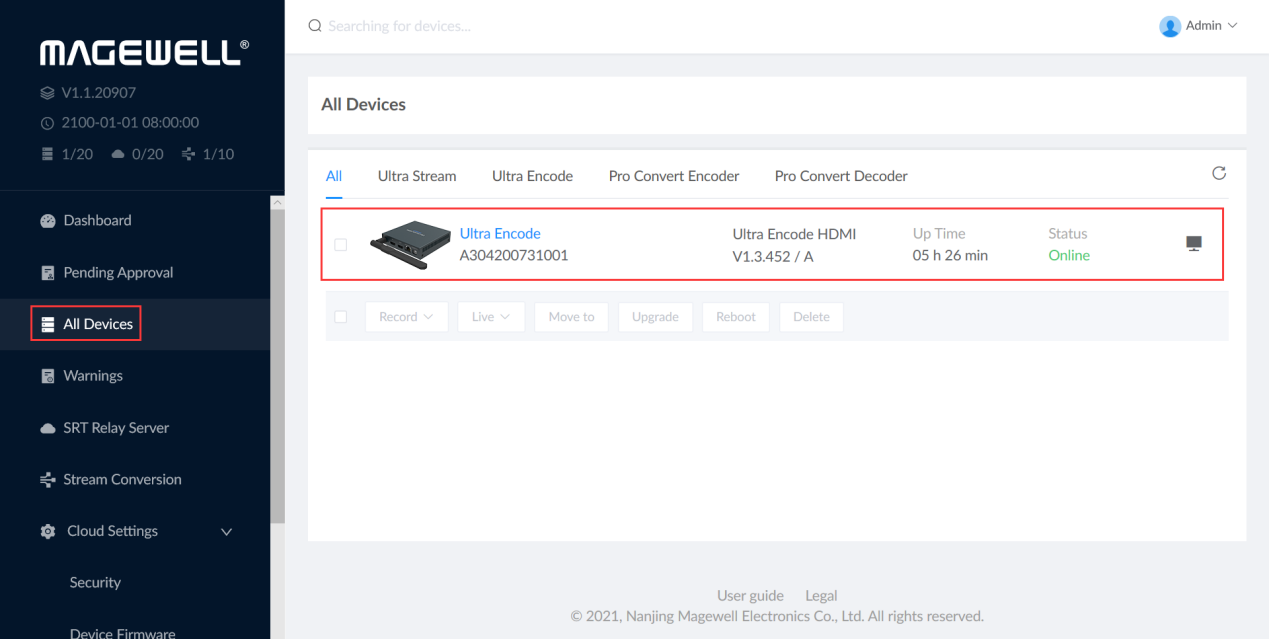 5. Repeat the above steps to add more Magewell IP devices to Magewell Cloud. For Ultra Stream and Ultra Encode units, use the "General > Cloud" menu item in step 2; for Pro Convert encoders and decoders, use the "System > Cloud" menu item.
If you do not see these menu options on your Magewell streaming or conversion device, you may need to update its firmware (for example, Ultra Encode units must be running firmware version V1.3.452 or higher).