The COVID-19 pandemic has led governments, enterprises and schools all over the world to take precautions such as home isolation and social distancing to ensure the safety of every individual. Online campus recruiting becomes a choice for enterprises who intend to recruit fresh graduates. Different from common online recruiting which can be carried out through video conferencing software, online campus recruitment usually includes a opening speech in which the host will introduce the company or positions with a PPT. But those video conferencing software does not have powerful video production functions, such as picture in picture or displaying the name of the enterprise on the video screen in the form of logo. In this case, producing the enterprise recruitment video and displaying it through video conference can not only help display the recruitment information vividly, but also get a better interactive experience. This blog will introduce how to realize online recruiting using Magewell's capture products, production software and video conferencing software.
---
Devices Used:
One laptop with video conferencing software installed. In this example, we're using Zoom.
One desktop with NewTek NDI Virtual Input and live production software (Vmix is used in this example) installed. Recommended configuration: Windows 10 64bit/3Ghz/8GB/NVIDIA GeForce 1050.
One Magewell Pro Capture Dual HDMI card.
One or more HDMI cables (depending on the numbers of available video sources).
One camera or more.
---
Steps:
1. Download vMix on the video production desktop (hereinafter referred to as "PC 1"), and complete registration and login.
2. Install the capture card on computer 1 (Pro Capture Dual HDMI is used as an example), download and install the driver. You can refer to the following device connection diagram.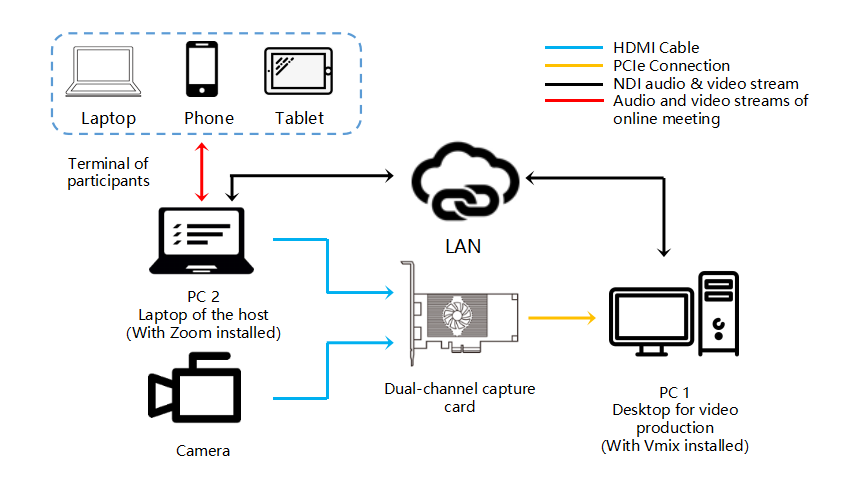 3. Log into vMix in PC 1, click "Add Input"-"Camera" and the setting page will pop up. In the "Camera" drop-down list, select "Pro Capture Dual HDMI 00-0" and click "OK". Repeat the above steps, select "Pro Capture Dual HDMI 00-1" and click "OK", then the vMix will capture the video signals of the camera and PC 2 screen.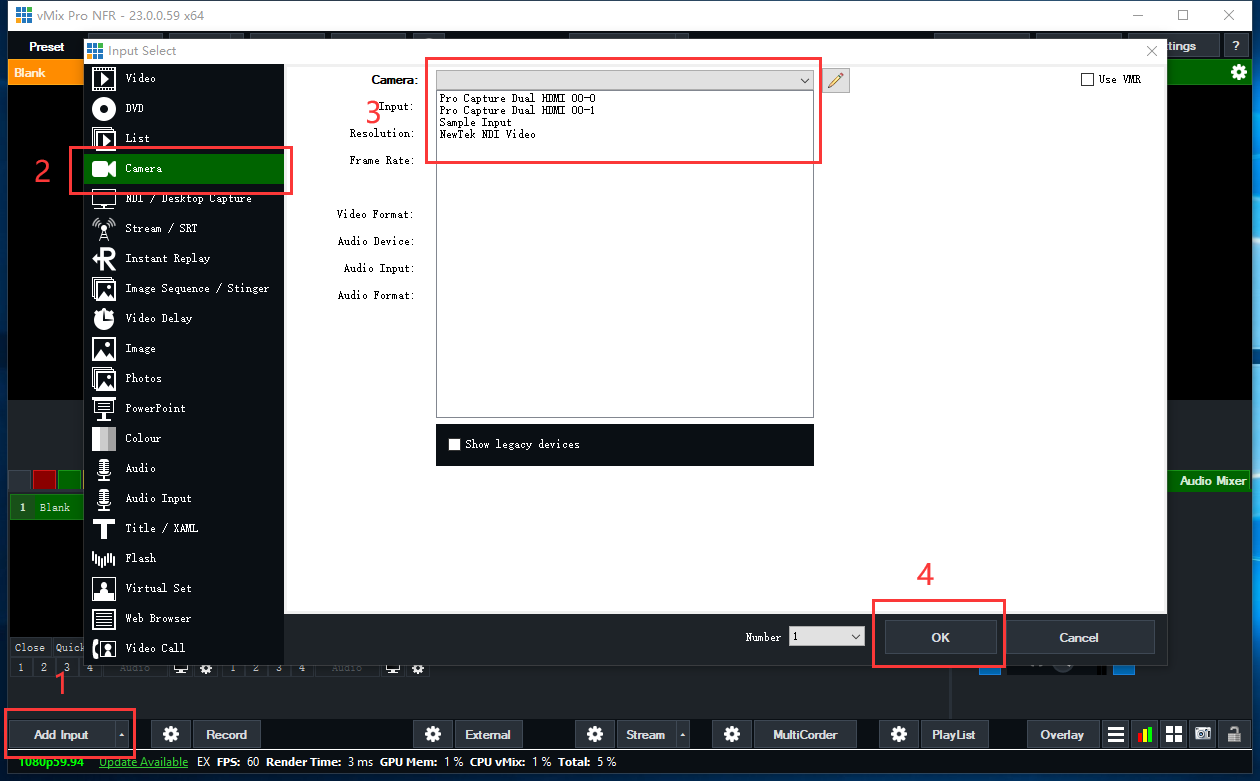 Besides in the Preset page, you can also add titles, pictures, videos, PPT and other materials based on your own requirements. VMix integrates rich video production functions, such as picture in picture as shown in the following figure: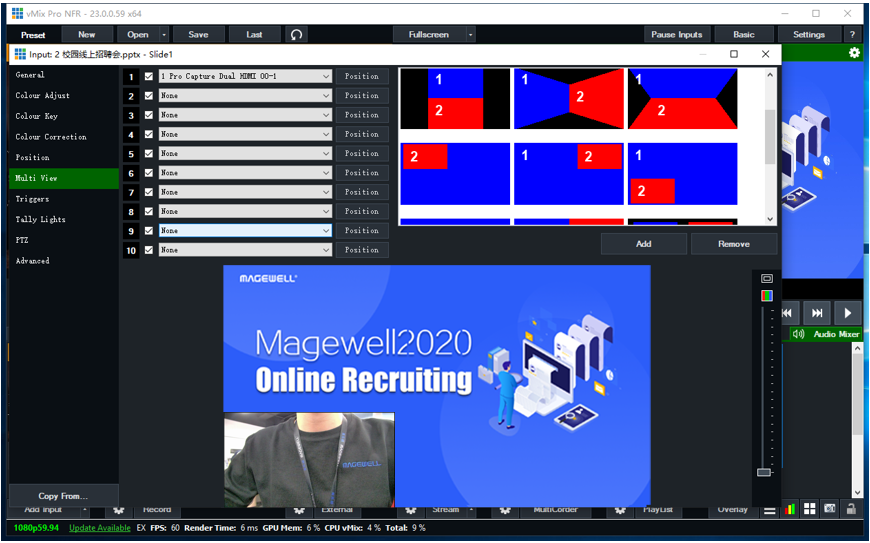 4. Click "Settings"-"Outputs/NDI/SRT" and the setting page pops up. Click "NDI off" and "OK", then the pictures made by vMix can be sent to the LAN in NDI streams.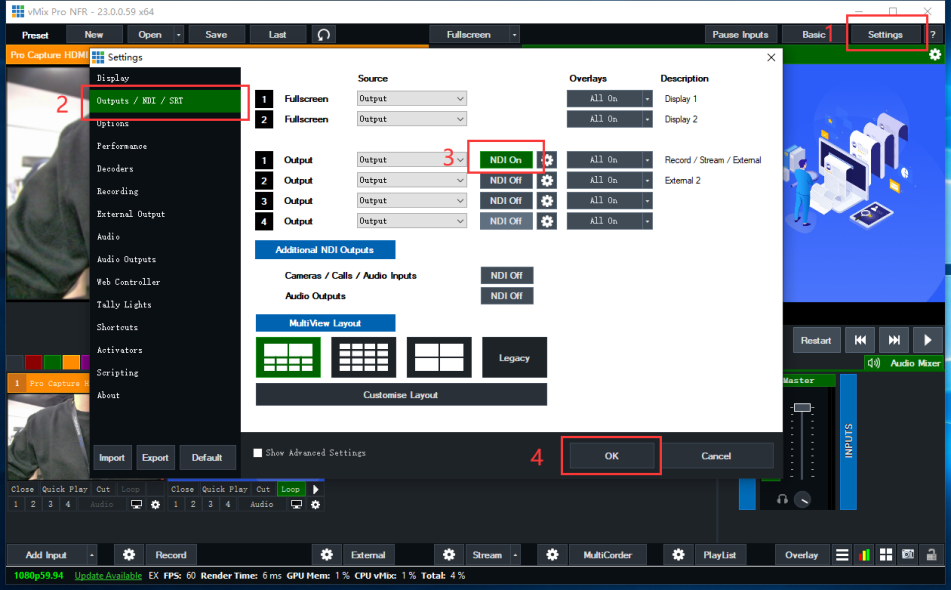 5. Download a video conferencing software in PC 2(Zoom is used in this example) and NewTek NDI Virtual Input.
6. Open NDI Virtual Input and choose "vMix-Output 1". Then open Zoom and choose "NewTek NDI Video" for video, "NewTek NDI Audio" for audio. You can see the video after the production and then invite relevant participants to the online recruitment.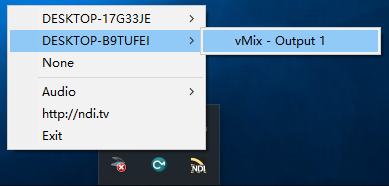 NDI Virtual Input Interface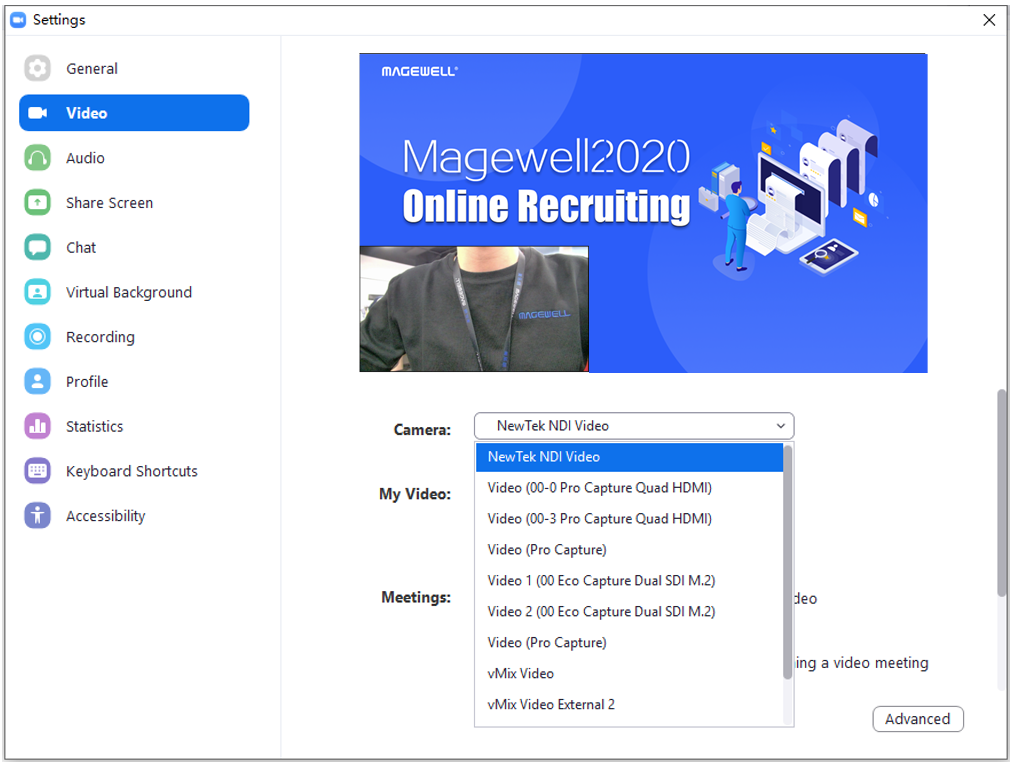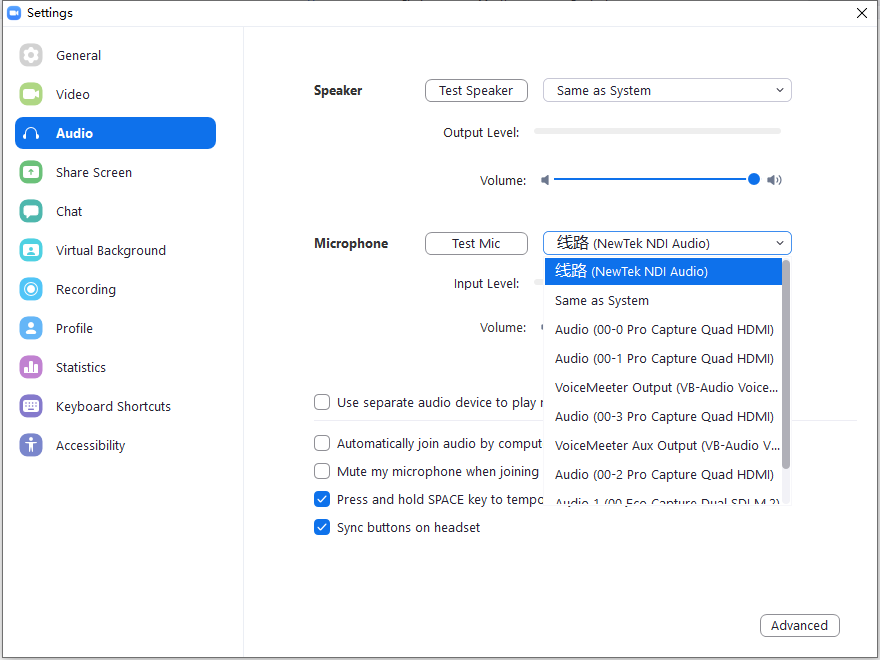 Zoom Interface
In this solution, video production and recruitment presentation are completed on two computers. On the one hand, it can help the host to concentrate on presentation and interaction without being disturbed by too many factors; on the other hand, it can reduce the operating pressure of a single computer and realize reliable online recruiting. Magewell capture cards are widely compatible with popular signals, and automatic input signal detection is suitable for various types of users. Of course, based on the size of user's studio and the number of channels to be captured, Magewell has more products waiting for you to discover!