NewTek's NDI® technology can not only transmit high-quality AV signals with low latency and high efficiency, but also transmit PTZ commands. Magewell's Pro Convert NDI encoders can receive PTZ commands from the NDI decoder and convert them into protocols that can be recognized by ordinary cameras to implement specific operations and simplify on-site production workflows based on NDI technology.
Magewell Pro Convert NDI encoders support five PTZ control protocols, namely Visca, Visca UDP, Visca UDP2rs232, PELCO-D and PELCO-P, to satisfy users to control PTZ cameras in different usage scenarios.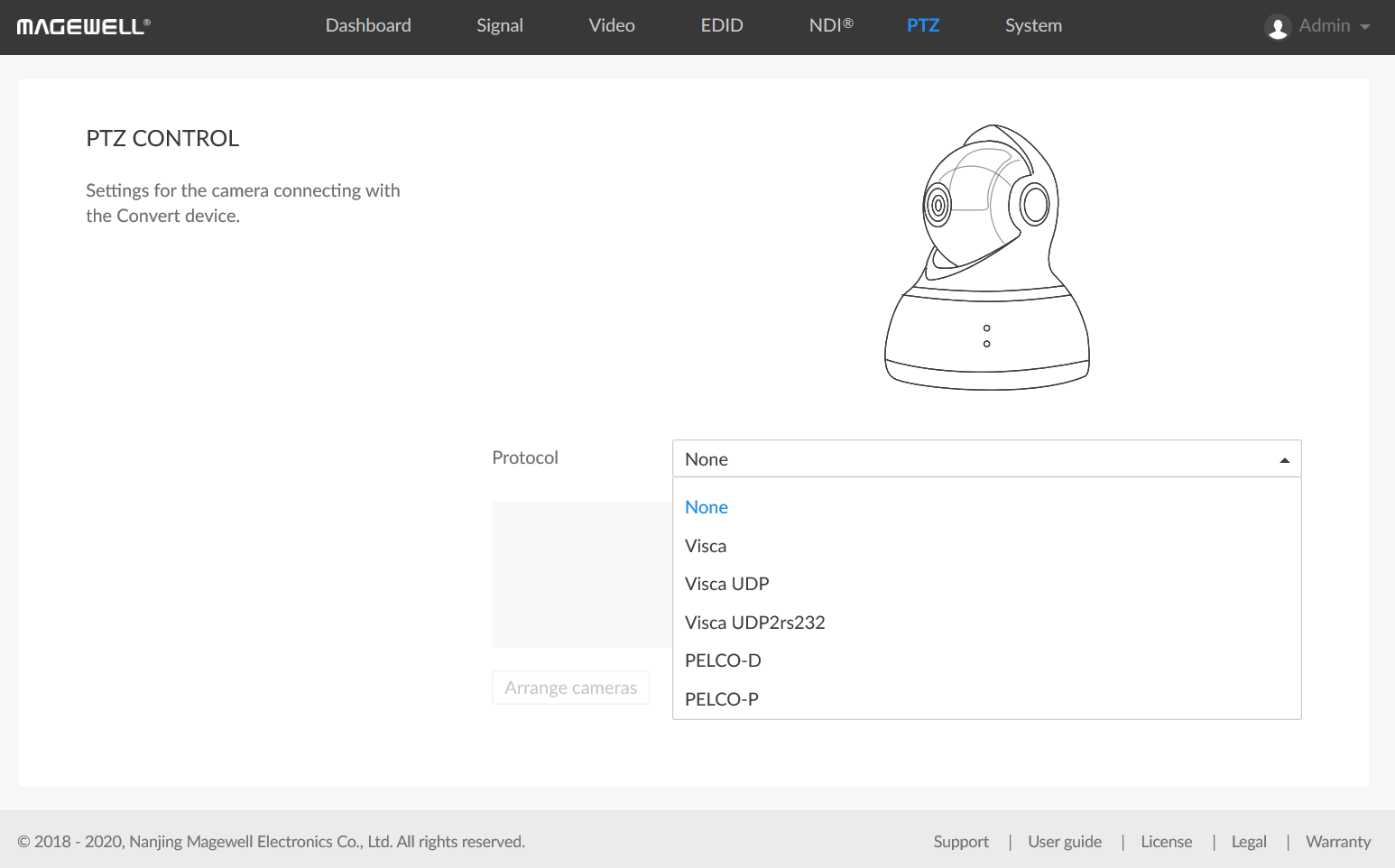 For PTZ cameras with RJ45 network ports, users can connect the camera to the same LAN as the Magewell NDI encoder and then connect the camera with the encoder via an HDMI cable. The PTZ command sent by the NDI decoding end (software which supports NDI decoding and integrates the NDI PTZ SDK , such as NDI Studio Monitor or Magewell NDI decoder) will be converted by Magewell NDI encoder to Visca UDP and sent to the PTZ camera, which in turn controls the camera. The equipment is set up as follows: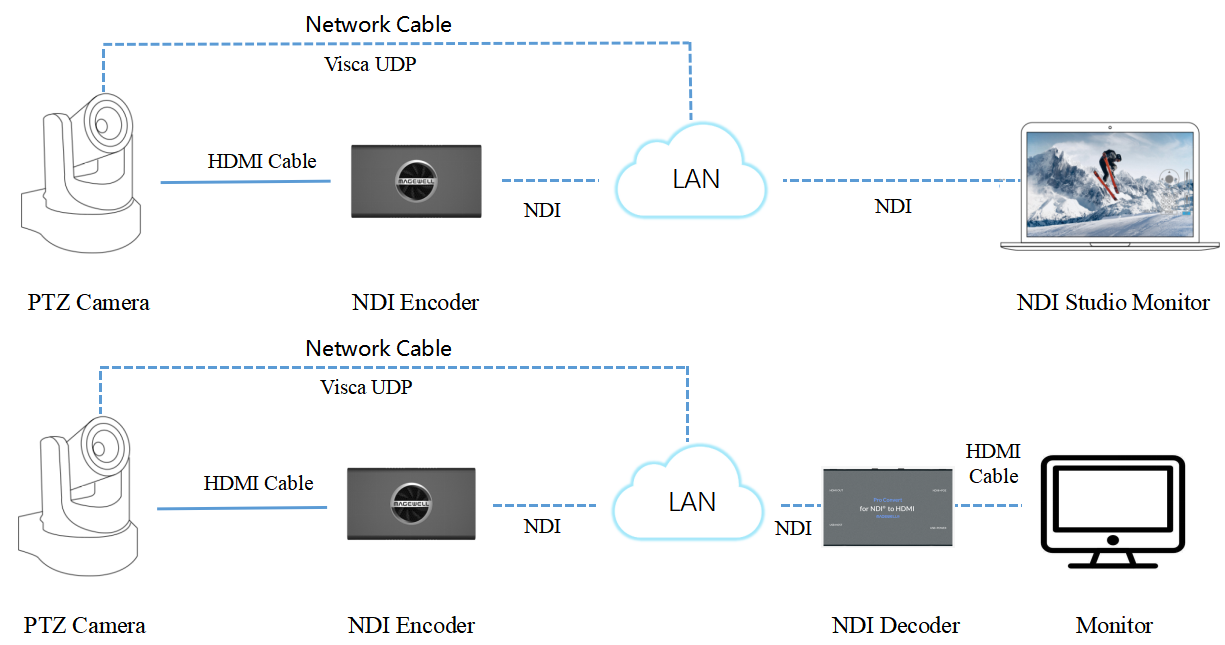 Some PTZ cameras do not have RJ45 network port. Users can receive PTZ commands converted by Magewell Pro Convert NDI encoders through the Visca/PELCO-D/PELCO-P protocols. In this case, the PTZ camera is connected to the NDI encoder through the HDMI cable and the PTZ control cable (Mini Din8 interface). The NDI decoding end can be Magewell's NDI decoder or software that integrates NDI PTZ control functions. The equipment is set up as follows: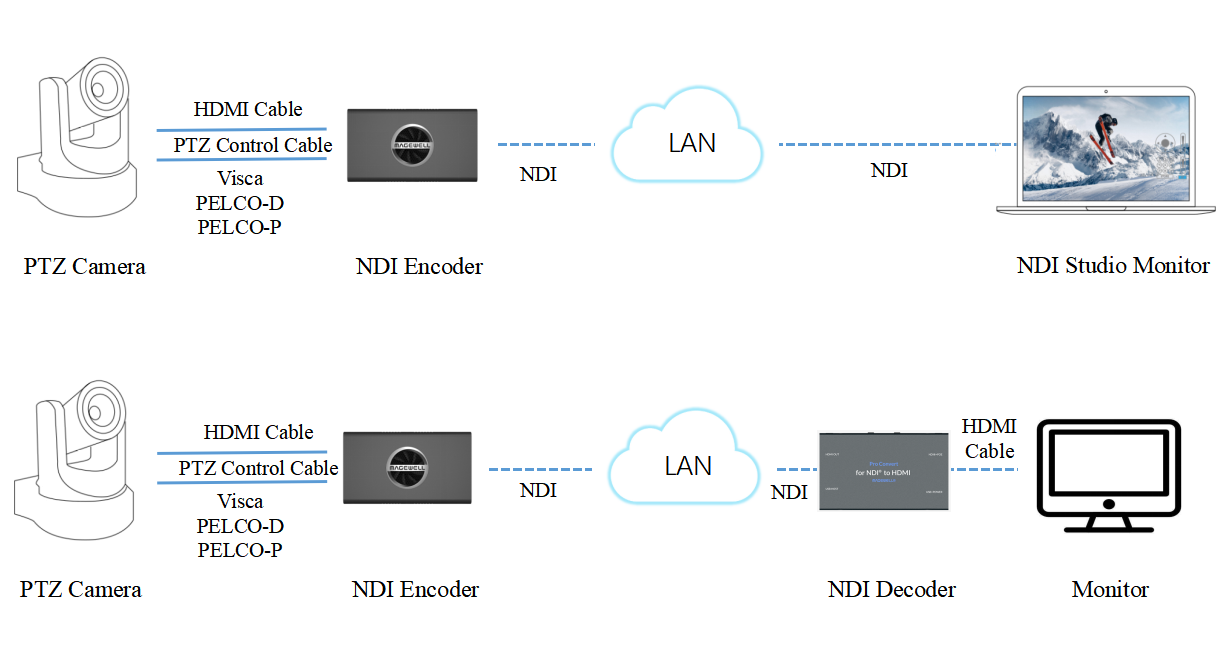 In addition, although some software supports NDI decoding, it does not integrate the functions of NDI PTZ control, such as vMix. Such users can use the Visca UDP2rs232 protocol supported by the upcoming firmware of the Magewell NDI encoder to implement control of the PTZ camera. The equipment connection and control logic is similar to the Visca/PELCO-D/PELCO-P protocol. The equipment is set up as follows:

Magewell's Pro Convert family is now available with six NDI encoders and two NDI decoders, all of which support the aforementioned PTZ control functions. The control buttons on the decoder also allow users to easily operate the PTZ control of the camera.